I'd like to start by saying that I grew up on motorbikes. I'd like to, but I can't. Still, I think it's somehow in my genes. My parents fell in love on a motorcycle. Riding out to band practice. Taking of their helmets to kiss on that first date when they were younger than my now-youngest sibling.
By time I came along motorcycles were traded for a brown Toyota with car seats in the back and an ancient pick-up to go with a budding construction business. Five kids later these eventually turned into a stubborn minivan and "Big Red," (hint: not a bike.)
I always knew, regardless, that my parents both held class 6 driver's licenses. At ten I had my first ride when my Dad's oldest friend brought around his cruiser. I don't remember what it was but I remember the thrill and the wind on my arms. I clung tight as we accelerated. I didn't know about counter-steering and had it explained to me after trying consistently to upright on corners.
Once a biker always in your blood, so I've been told. Once you start you'll never really stop. When I was fourteen my parents bought a little orange Yamaha Enduro 100 from roughly the stone-age, aka the 1970s. That's what I learned to drive up and down our lane. With a throttle in your fist and no license in your pocket 100ccs feels like a lot of power. 20MPH feels like a lot of speed. An old gold helmet from your parent's dating days feels pretty cool. And it starts to get in your blood.
At sixteen I drove it on Mexican highways to neighboring villages for an internet fix. The smell of tortillas and the muggy wind on my face was nothing but pure independence. I wanted more. My little brother drives it around mountain roads with his friends now.
I moved out and my parent's young family grew up enough to justify getting rid of the minivan. They bought a Honda 400. This time only from the Dark Ages. AKA, the early 1980s. It looked like this only until my oldest brother turned his mad airbrushing skills its way. I made it past the first two steps of licensing and then life got in the way. I still hoped for the wind on my face and a ride down the lake but my lifetime commitment of achieving my own class 6 was still out of reach.
My middle brother fixed up a Honda 400 dual sport from the same era and would take me burning around mountain trails and rock outcroppings. I learned to manage the kick start and I'd take it out on my own. My cousin let me take a less-than-legal spin on his 600 crotch rocket. It was only a matter of time. My license requirements finally fit themselves in last year.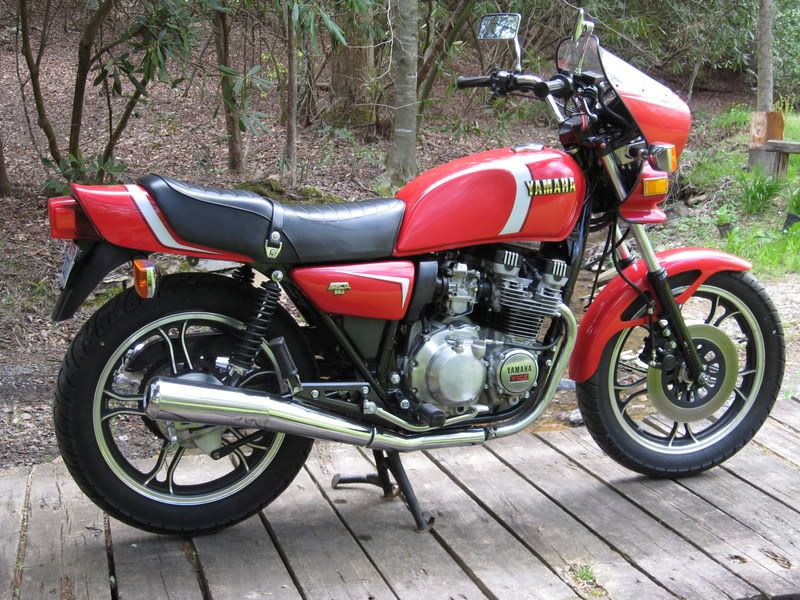 Here's what I'm driving these days. Yamaha Seca 550. Check off
item 24
. Apparently we have a thing for old-school bikes. Yes, it's also from the dark ages. But it's still a whole lotta fun.